If you are hurting inside, or if life just doesnt seem to be working... you dont have to just sit there and suffer.
You do have a choice: you can choose to get help.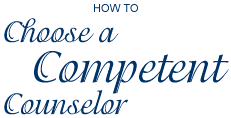 How can I find a good counselor or psychotherapist?

How do I know if my counselor is competent?

What is supposed to happen in therapy?

Can a therapist be incompetent without me realizing it?

Is a psychologist the best therapist? Does a license make a difference?

If you have asked yourself any of these questions, this article is for you. It is a consumers guide for anyone who is considering professional counseling and wants to know how to go about it. I hope to show you how to choose a professional counselor who is likely to be able to help you, and how to avoid those who are not.
Why is this article different? Because I am not working for a therapist; I am working for you. I am not biased toward any particular profession and no one is paying me to write this article. I have no agenda other than your well-being.
You see, Find-A-Therapist articles are usually marketing tools. They are often written by professional associations, who want you to find a member of their association; or by therapists who are advertising their services. Both are biased. Some are written by consumers in a well-meaning but ultimately fruitless attempt to decipher the confusing array of academic degrees, licenses and certifications of therapists. (Why fruitless? Keep reading.)
But since a degree, and even a license, may not guarantee the effectiveness of a counselor, this article will show you how to evaluate the true competence and effectiveness of a therapist or counselor based on very simple evidence YOU can gather with your own eyes and ears.
No one, including me, has a monopoly on good advice, and I encourage you to consider several opinions in addition to mine (I will refer you to some others at the end of this article); but I hope you will find this information helpful.

Next: Why I wrote this article >>

Home 1 2 3 4 5 6 7 8 9 10 11 12 13 14 15

Table of Contents
Home

Copyright 1991,1996, 1999 Martha Ainsworth. All rights reserved. Please refer to reprint information before reprinting or distributing all or any part of this text.




This site is appropriate for anyone with any of the following concerns who might be looking for help: abuse addiction addictive adolescent adolescents adult alcohol counseling alcoholic analysis anxiety attack assessment behavior behavioral care bereavement caring change changing child psychiatry child therapy child counseling center clinic clinical codependent cognitive communication communications confidential confidentiality consultation conflict resolution cope coping skills counsel counseling counselling counsellor counselor counselors couples counseling couple therapy crisis death dying depressed depression development disorder disorders divorce drugs drug counseling elder elderly elder care eating disorder eating disorders emotion emotional illness families family therapy family counseling female women woman grief group guidance healing health human illness individual issue issues life loss issues marital counseling marital therapy marriage counseling marriage counselor marriage therapy marriage family child counselor marriage family child counseling medicine men man male mental health mood disorder orientation pain panic attack panic attacks parent parenting partners pastoral counselor pastoral counselors pastoral counseling pastoral psychotherapy personality post-traumatic stress disorder counseling problem problems professional psychiatric psychiatry psychoanalysis psychoanalytic psychoanalytical psychological psychology psychologist psychologists psychopharmacology psychotherapeutic psychotherapist psychotherapy licensed licensing issues certified certification registered accredited PhD EdD Ed.D. PsyD Psy.D. Ph.D. LPC LCSW MFT PTSD recovery relationship counseling relationship therapy relationships relationship issues safety self esteem self-esteem self help self-help separation sexual trauma sex therapy sexual abuse counseling social work social worker spirit spiritual spirituality stress management substance suicidal suicide support supportive support group support groups substance abuse survivor survivors testing theology therapy therapist transition transitions trauma traumatic trust wellness short-term therapy long-term therapy sliding scale insurance managed care